Spanish Classes for Adults in South Florida
There are so many benefits to learning Spanish. Whether you want to communicate freely with your Spanish-speaking friends and family or want a benefit in the workforce by being a bilingual employee. There's no downside to perfecting a second language.
We're confident your search for community Spanish classes near me brought you here to Broward Community Schools. We offer so many courses to get you on your way!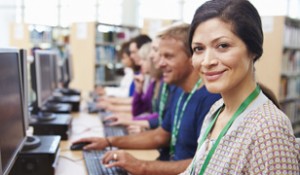 Speed Spanish
The Speed Spanish course is designed for people that need to learn the language quickly. The course takes six weeks to complete. It gives you helpful tools to string Spanish words and phrases together to form sentences. There is also a self-paced tutorial. You get access to the class for three months. It doesn't have an instructor, so you can go at your own pace and schedule.
Speed Spanish II
After completing Spanish I, naturally you'll want to move on to Spanish II. The class focuses on seeing words and hearing them pronounced properly to help further improve your Spanish fluency. You can opt to take this six-week course in a classroom setting or take the self-paced tutorial.
Speed Spanish III
By finishing the final class, you will truly master your Spanish-speaking skills. This class focuses on new vocabulary, pronunciation, and speaking spontaneously in conversations. This class also offers a six-week instructor-led course or a three-month self-paced tutorial.
The Speed Spanish courses are also available as a bundle in an instructor-led course.
Spanish in the Classroom
Do you have Spanish-speaking students? Are you struggling to communicate with them and their families? Spanish in the Classroom will help you learn essential communication skills, starting with pronunciation and bridging to simple words and sentences. It will also give you key phrases you can use in parent-teacher conferences. This is also a six-week instructor-led course. Or, you can opt to take a self-paced tutorial over the course of three months.
These are just a few of the Spanish classes we have available. Ready to get started? Reach out to one of our Florida community schools to find the ideal course(s) for you and get registered. We look forward to speaking with you soon!
How long does it take to learn Spanish?
The length of time it takes to learn Spanish can vary widely depending on factors such as the learner's level of commitment, prior language learning experience, and exposure to the language. Generally, it can take several months to several years to become proficient in Spanish, but it is possible to acquire basic conversational skills in a matter of weeks or months with consistent practice and immersion.
Is Spanish hard to learn?
Spanish is considered a relatively easy language to learn for English speakers, as it shares many similarities in vocabulary and grammar. However, some learners may find certain aspects of Spanish, such as verb conjugation and pronunciation, challenging. With dedication and consistent practice, it is possible to overcome these challenges and become proficient in Spanish.
Why should I learn Spanish?
Learning Spanish can provide many benefits, such as improved communication with Spanish-speaking individuals, enhanced cultural understanding, and increased career opportunities in fields such as education, healthcare, and business. Spanish is also one of the most widely spoken languages in the world, making it a valuable skill for personal and professional growth. Additionally, learning a new language can improve cognitive function and provide a sense of personal fulfillment.
Where can I learn Spanish near me?
Broward Community Schools offer many locations where you can learn to speak Spanish in the South Florida area. With flexible schedules and online opportunities, there's a Broward Community School for every need.