Have you noticed that your grammar could use a little polishing? An English class can help improve both your understanding of the English language, as well as improve the way you speak and read. We have a variety of courses available at Broward Community Schools to help you do just that.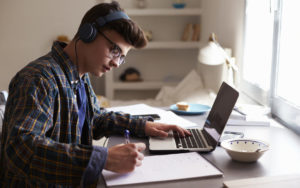 Grammar Refresher
Our Grammar Refresher course covers punctuation and mechanics, foundational sentence construction, common grammar mistakes, and so much more. The class utilizes videos, hands-on exercises, and even fun games to help you develop your skills. This is a six-week instructor-led course with 24 course hours. You can also opt to take a self-paced tutorial with three months of access to the material.
Grammar Refresher II
Improve your skills even further with Grammar Refresher II. You'll earn advanced grammar knowledge and learn how to use your new skills practically. You will learn about adjective and adverb use, sentence structure and more. It will also go more in-depth on other grammar use to help you develop your business and essay writing. This is also an instructor-led course, but you can also take it as a self-paced tutorial if you need time to work around your schedule.
Grammar for ESL
Keep in mind, our Grammar Refresher courses are best for native English speakers. If English is not your native language, you would benefit from taking our Grammar for ESL course. This class is best for intermediate or advanced English as Second Language speakers. This course is also 24 course hours and takes place over six weeks in an instructor-led classroom. Or you can start anytime with a self-paced tutorial.
Other Courses Available
There are a plethora of other English and grammar courses available at our community schools in Miami. They are catered towards different skill levels and career aspirations to make sure you are gaining the knowledge you need for your dream career.
Grammar and Writings Skills for the Health Professional
The Keys to Effective Editing
Explore a Career in Medical Transcription
Business and Marketing Writing
Travel Writing
Unsure where to start? Reach out to our team and we can help line you up with the best courses for you. Let's get started today!