Language Classes for Adults in South Florida
If you are ready to dive into a new language, Broward Community Schools has plenty of options, so you will find that one of our in-person or online language classes to be a perfect match with your schedule or interests. From beginner Spanish taught at some of our community schools to beginning conversational French that offered in instructor-led or self-paced online formats, we have something for everyone at an affordable price. We also have in-person and online ESL classes in writing and grammar. Both courses are available with an instructor or at your own pace. That way, you can pick the format that works best with your learning style.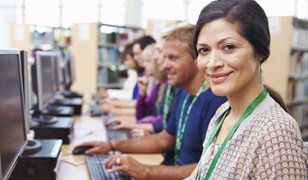 The in-person courses are eight weeks long and take place once a week for two hours during a weekday evening. Depending on the instructor, the material needed may vary, from a book that is required to online access to a learning software. Along with the cost of the class, there is a $20 student activity fee charged one time per campus each school year to offset the cost of providing school security. It will be worthwhile as you will learn common words and phrases for both leisure and business.
Our online-instructor led courses are taught by experts in your chosen language and last for six weeks, while you are allowed three months to complete the class of your choice with self-paced using available windows of time in your schedule. This allows you to have more flexibility on when and where you develop your new language skills. We understand that you lead a busy life and may be able to fit a course in just short bursts of time. The beauty of these online classes Florida besides the affordability and adaptability is that the requirements are minimal. You only need working speakers or headphones, updated PC and Mac software, an updated browser, and two free Adobe programs along with access to a personal email account.
Find out more about all the language classes we offer by requesting information online or by calling us. We will get back to you a timely manner in order and are eager for you to continue your learning with us.