If you're pursuing your GED, there's no reason to go it alone. At Broward Community Schools, we offer classes that can help you study for the GED exam and, more importantly, pass it with flying colors. Here's what you need to know.
Subjects Covered on the GED Exam
The GED test covers a wide range of subjects. There are sections that cover math and reasoning along with sections that cover language arts. Additionally, there will be questions about science and social studies. You may have a solid grasp of one or multiple sub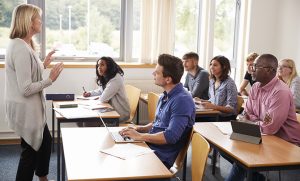 ects, but it's rare that someone knows everything that they need to know about all four without some serious studying.
A GED class at our schools in Fort Lauderdale can help you brush up on all of these subjects. You'll learn more about everything that will be on the exam and you'll be prepared for the questions you encounter. Whether it's been years since you were in school or you were a student up until recently, these classes can make a big difference.
Our Teachers Can Help You Succeed
The teachers of our GED classes also know how tough it can be to study for an exam that covers so many subjects. That's why they work closely with their students to help them shore up weaknesses and develop a mastery of all subjects covered by the GED test.
Flexible Class Times
We understand that people are not all on the same schedule. That's why many Broward adult education programs are flexible and offer class times that fit your schedule. There are daytime classes and nighttime classes, so if you have children to care for or a job to attend to, you can still find a GED class that you can attend. You can also choose between in-person and online classes, so it's easy to find an option you're comfortable with.
There's also no time requirement for how long you need to spend in these courses. You can enter the program and exit it at any time according to your own education needs. If you want to learn more about our GED classes, then visit our website. We'll tell you more about how we can prepare you for your GED test, and then you can learn more about college test prep and other educational opportunities at our colleges!