If English is your second language and you're a student looking to attend mainstream college courses but need to sharpen your skills, enroll in an English class at Broward Community Schools! Our Grammar for ESOL course will take your writing and speaking abilities to the next level by diving deep into the foundation of the language – grammar.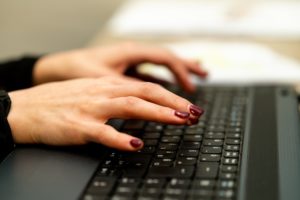 About Grammar for ESOL
The Grammar for ESOL course at our schools in Fort Lauderdale is taught online so you may learn at your own pace in the comfort of your home. It is recommended for intermediate to advanced college students that are interested in furthering knowledge of both English and their field of study. Understanding and appropriately applying grammar to your English-speaking is essential for success in the language. After completing this course, students will be able to attend and succeed in typical college courses at a university.
There are many lessons throughout the span of this course that will allow for a deep analysis of English grammar. The key verbs and their forms, the passive voice, and noun clauses are just a few of the lessons included. As with all of our ESOL courses, this class is taught by passionate instructors that have extensive experience, knowledge, and credentials to share with their students.
Registering for Classes
The time is now to move forward on your path toward a career you love. All you need to do to register for Grammar for ESOL or any of our other classes is search for the course in our online catalog, select an enrollment option, and "Add to Cart." Most courses have two options – instructor-led and self-paced. Instructor-led requires you to choose a start date, while self-paced has no instructor or time commitments. This flexibility is intended to cater to the busy schedules of our students.
In addition to ESOL classes, Broward Community Schools offer GED courses, business classes, adult education options, and much more. We have 17 community schools and 20 off-site locations for students interested in face-to-face learning.
Give us a call to learn more about exciting opportunities for your future!