If you've ever considered taking culinary classes to expand your knowledge and cooking skills, Broward Community Schools is the perfect place to enroll. Our schools offer a variety of different in-person and virtual classes to help individuals learn everything there is to know about the culinary world. From the basics of cooking a simple meal for two, to elaborate desserts, and how to cook healthier meals for the whole family, there's something for everyone.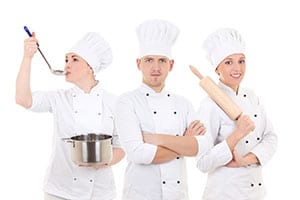 Benefits of Taking Culinary Classes at Broward
If you lead a busy lifestyle, taking one of our online courses allows you to learn how to cook step-by-step and at your own pace. You can start small with simple dishes, and then work your way up to more advanced meals. Plus, you are always welcome to e-mail your instructor with any questions or concerns regarding the course. If in-person culinary classes are more your style, we have plenty of options for you to pick from. Our current course load includes several different baking classes to help you bake better cakes, pastries, cookies, and more.
Learning how to cook or bake better can become so much more than just a new hobby. When you take one of our culinary classes, you'll find that your entire grocery shopping and meal prepping routine become so much easier. Once you've learned more about the cooking process, scheduling weekly meal and making out your grocery list is a breeze. Find what meals work for you and your family, and then go from there. You can even branch out once you're comfortable and try a new food or new food combinations to expand your pallet.
Cooking can also become a fun way to spend more time with family and friends. Pick out a new or old recipe, and get everyone together for an evening of laughs, bonding, and learning. Once you've finished your culinary class at a Broward County community school, you'll be ready to share your newfound knowledge with everyone you know.
Register for a Culinary Class near Fort Lauderdale, FL Today
If you're interested in learning more about our culinary classes in Florida, get in touch with one of our Broward educators today. We are always more than happy to address any questions or concerns, and we welcome any feedback you may have! We look forward to teaching you more about the culinary world through expert instruction and hands-on learning you can only find at Broward Community Schools.